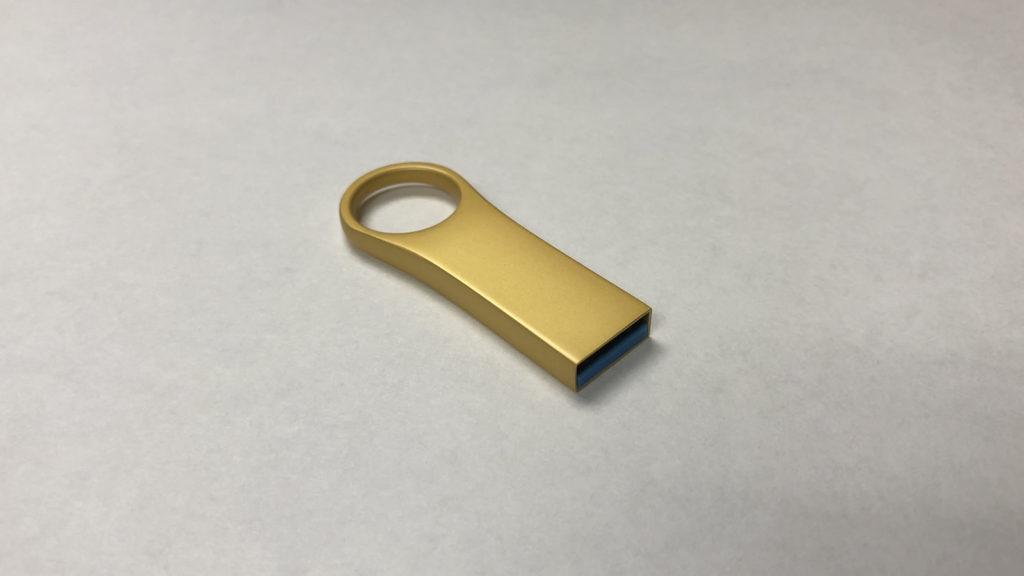 One of my good friends recently purchased a pair of thumb drives he saw advertised in a Facebook ad. The deal was for two 2 TB USB 3.0 flash drives for an amazingly low price of just $15. That's right, a whopping 4TB of storage for just $15. Sounds too good to be true, doesn't it? Keep reading…
The first clue that something was wrong was the packaging. The package the flash drives came in said: "USB Cable" not "USB Thumb Drive" or "USB Flash Drive" or anything remotely similar. This made my friend suspicious enough that he brought them to me one Sunday afternoon for a closer inspection.
Another big clue was the price. If you take a look at reputable brands, not one offers a drive at that low price point. In fact, PNY offers a 1 TB flash drive for $200. The largest SanDisk flash drive I could find was only a 512 GB model coming in at $80. Corsair currently sells is a 1 TB premium flash drive for $335. The largest flash drive we currently have in stock at Apheus is a V7 256 GB USB 3.1 flash drive for under $70.
There were no markings or branding anywhere on the drives themselves. Pretty generic, but still nothing that we cause me to stop and think. In fact, I really liked the design and gold-toned outer housing. The blue plastic piece in the slot indicated that it was USB 3.0, which means that it should be much faster than the older USB 2.0 standard.
When I first plugged in the flash drive, it showed 1.9 TB of available space. That's close enough, as most drives (hard drives, SSDs, or flash drives) rarely have all of the advertised space available.
I started off my testing by trying to copy a large data file to the device. In this case, a single file containing 124 GB of data. I knew it would take a while to copy the file, so I left it running. And it kept running for several hours, never fully copying the data. This made me super curious as to the authenticity of the drive. It failed this part of my test.
I then moved on to another test – just checking to the transfer rate of the drive. Surprisingly, the drive did pass this test. It was much faster than the USB 2.0 thumb drive. It still felt a little sluggish at times, but it did in fact pass this part of my testing.
Time to format the drive. I went ahead and formatted the drive, thinking that maybe I would get some sort of error. Surprisingly, I didn't get an error. Windows formatted the drive to the "full" 1.9 TB capacity.
The next thing I did was to look at how Windows 10 was recognizing the device and to see if I could find any other details. I opened up the Windows Disk Management utility and examined the properties of the flash drive. Under the hardware tab, I noticed something pretty peculiar. The name of the drive was listed as "VendorCo ProductCode USB Device". Time to head on over the Windows Device Manager utility.
Under Device Manager, I opened up the disk drives section and sure enough, it was listed as that same cryptic name. Clicking on properties, I looked under the details tab to see if I could find any other clues. Unfortunately, I couldn't find anything that looked like a smoking gun.
That's when I decided to use a tool to confirm my suspicions. There's a super simple program free to download called H2testw. It's designed to test and verify the capacity of a drive, which is exactly what I was trying to do. In retrospect, I probably just started with this step, but I love detective work.
I already knew that the drive was going to fail the test, so instead of waiting 32 hours for the full test to complete, I set it up to only test 200,000 MB of data. That test would still take 3 hours to complete, so I "set it and forget it!" Don't judge me for my grammar, as I was intentionally channeling Ron Popeil. So I left the office, hoping the flash drive wouldn't actually catch on fire.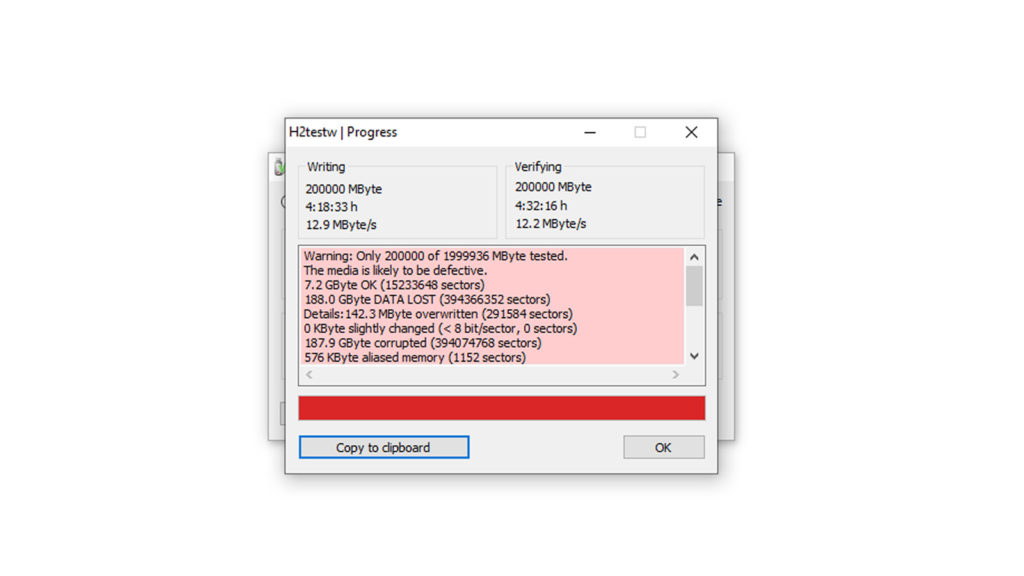 Then this morning, I walked into the office, hoping that the thumb drive actually didn't flash and burn. It didn't, which was good. What wasn't such a good sign was the red background of the test results. The H2testw program confirmed my suspicions – the flash drive was a fake! In fact, the test revealed that there were only 7.2 GB of actual data on the drive. The other 188 GB of data was lost.
So instead of my buddy getting a 2 TB flash drive, he purchased one with only 8 GB and the hope that he was getting a good deal. To be fair, when he purchased the drives, he knew it was too good to be true and he was right. It's unfortunate that this type of advertising is allowed to happen. Indeed, there have been numerous YouTube and blog articles written about these types of scams over the years. Places like Wish and Alibaba are replete with these types of scams. What is surprising, however, is that more reputable sales platforms like Newegg and Walmart also have these fake flash drives.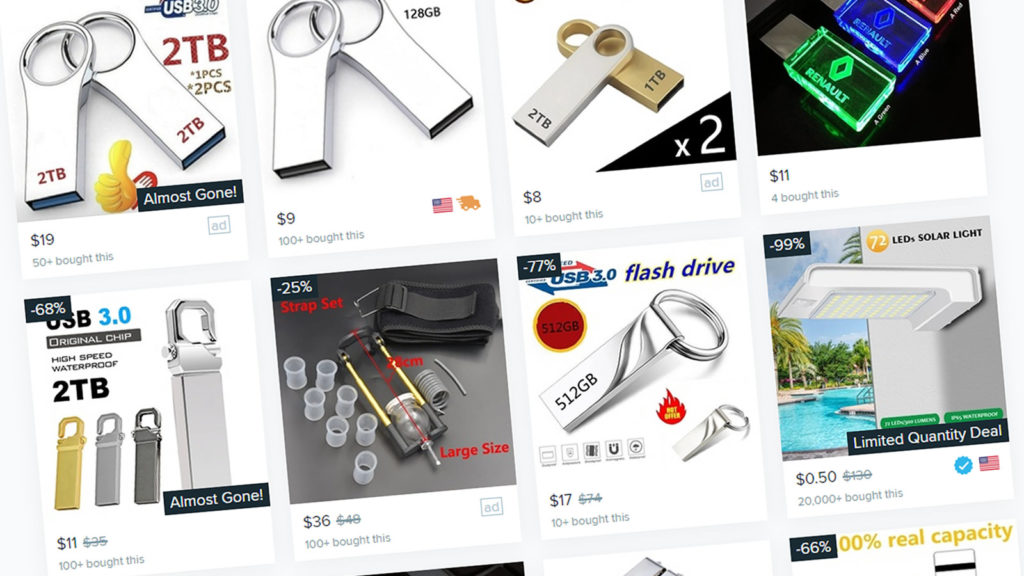 So what happened here?
You should never buy a piece of hardware like this off of Facebook. You should always visit your local computer shop. The fake 2 TB scam has been around for years, but people still fall for it every day. My friend is no chump, but even the best of us falter in our judgment from time-to-time.
So you may be asking yourself, "How do they make it appear on the computer that you have a 2 TB drive?" The answer is simple – they fake it. Part of the device has been reprogrammed to trick your computer (and you) into believing that the drive is actually larger than it is. It's a shady deal.
So if the seller of the device is already lying to you about the size of the drive, just think about what else they could be doing. Is there a keylogger on the drive? Are they shipping it to you with some sort of malware pre-installed? The possibilities are endless. Granted, the vast majority of these con-artists are just selling you more than you're actually getting. But there's also that very real possibility that you're getting something that you aren't expecting.
Caveat emptor.